Traveling with your kids in Athens? We've put together for you our 10 + 1 favorite suggestions.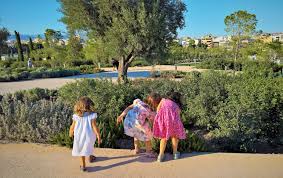 Live for a while the golden age of Pericles by ascending the Acropolis hill and admiring the ancient temples and theaters.
Admire the Caryatids and other great exhibits at the new Acropolis Museum by taking part in activities specifically designed for children.
Run to the alleys of Plaka and play with the little things in the shops in Monastiraki.
Take the train ride through all the sights of Athens.
Visit children's museums to fill in experiences and develop new skills.
Get to know the playful dolphins and other animals that are hosted in the Attica Zoo.
Enjoy a Karagiozis Show and Travel to Distant Galaxies on the Planetarium – Eugenides Foundation
Feed the pigeons to the House and be impressed by the discipline of the guards (Evzones)
Climb up the cable car to Lycabettus Hill and admire the magnificent view
Visit the Stavros Niarchos Foundation and enjoy playing beside the Lake .Take a bike ride to the sea front.
Enjoy a children's play, filled with pictures and beautiful emotions.