Athens is a city which offers a big variety of museums and cultural venues. From ancient sculptures and Byzantine churches to modern art and great paintings, the Athenian scene has it all.
Here are the three must –visit ones.
ACROPOLIS MUSEUM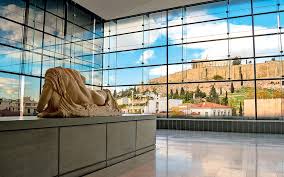 The new Acropolis museum is open since the summer of 2009. The Museum hosts an incredible collection of artifacts and views of the Acropolis itself. The artifacts are exhibited in a four level beautiful building just opposite of the Sacred Rock. As the museum is built over an extensive archaeological site, the floor offers the visitor general glass views of the excavations below . On June 2019, Acropolis Museum opened an excavation site underneath its modern building, allowing visitors for the first time to walk through an ancient Athenian neighborhood.For information regarding the museum schedule hpurs and programms visit the site https://www.theacropolismuseum.gr/en/. Acropolis Stay  is located only 5min walk away from the museum.
NATIONAL ARCHEOLOGICAL MUSEUM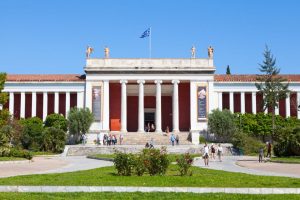 Founded in 1889, this is undoubtedly one of the most important archaeological museums in the world. The National Archaeological Museum contains the greatest collection of Ancient Greek artifacts in the world.  If you want to wander throughout the panorama of greek civilization, this is the place to do so. Collections of prehistoric items from all over Greece, sculptures, vases, statues, jewellery, weapons and religious items but also artifacts from the Bronze Period give the visitor a unique experience. Do not miss the famous Antikythera  device probably the first analog computer, dating 2000 years ago.The National Archaeological Museum is located 2.5km away from Acropolis Stay and can easily be reached  by metro ,by bus or by taxi.
BASIL & ELISE GOULANDRIS FOUNDATION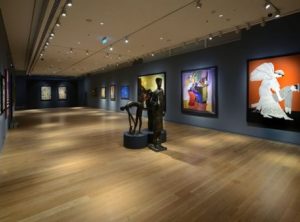 Basil and Elise Goulandris had a vision: to someday house their precious collection of artworks in one single building so that a wider audience become familiar with the Art they so much loved. In October 2019 their dream came true and the new museum opened to the public. One of the greatest private collections covering the period between 1880 and 1980 was unveiled: Cézanne, Van Gogh, Monet, Pollock, Degas, Picasso, Miró, Giacometti and Chagall are only some of them. The beautiful building of the 1920s is also itself worth visiting. Apart from the permanent exhibition, many other events are organized throughout the year. The small coffee shop and the gift shop are really worth visiting too.Basil and Elise Goulandris foundation is located near the Panathinako Stadium and 2km away from Acropolis Stay.