ATHENS-  THE ACROPOLIS AREA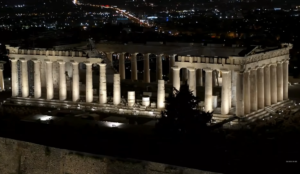 Acropolis area and monuments  has been lightened through a new impressive dazzle light.
In September 2020, the new lighting of the monuments on the Holy Rock of Acropolis was revealed. In total, nine monuments were illuminated with a bright white light, highlighting the volume and the geometry of each one of them. Five of these monuments were illuminated for the first time.
The temple of Hephaestus in the Ancient Agora and the hill of Philopappos were illuminated with the same philosophy, aiming to showcase their architecture elements and create new points of reference around the city.
The result gives off the feeling of a united composition that operates as a whole and gives character to the city's center.
The project was funded by the kind donation of the Aristotle Onassis Foundation https://www.onassis.org/and designed by the EMMY award winner Eleftheria Deko.
As part of the upgrade of the infrastructure of Acropolis, a new elevator was installed on the side of the hill to ensure access for all.
The Acropolis is stepping into a new era and is looking forward to its first visitors after the coronavirus pandemic.
Follow the link to get an impression
https://www.youtube.com/watch?v=YXsOWUNttAU
Book your stay in Acropolis Stay Hotel and be part of the myth!