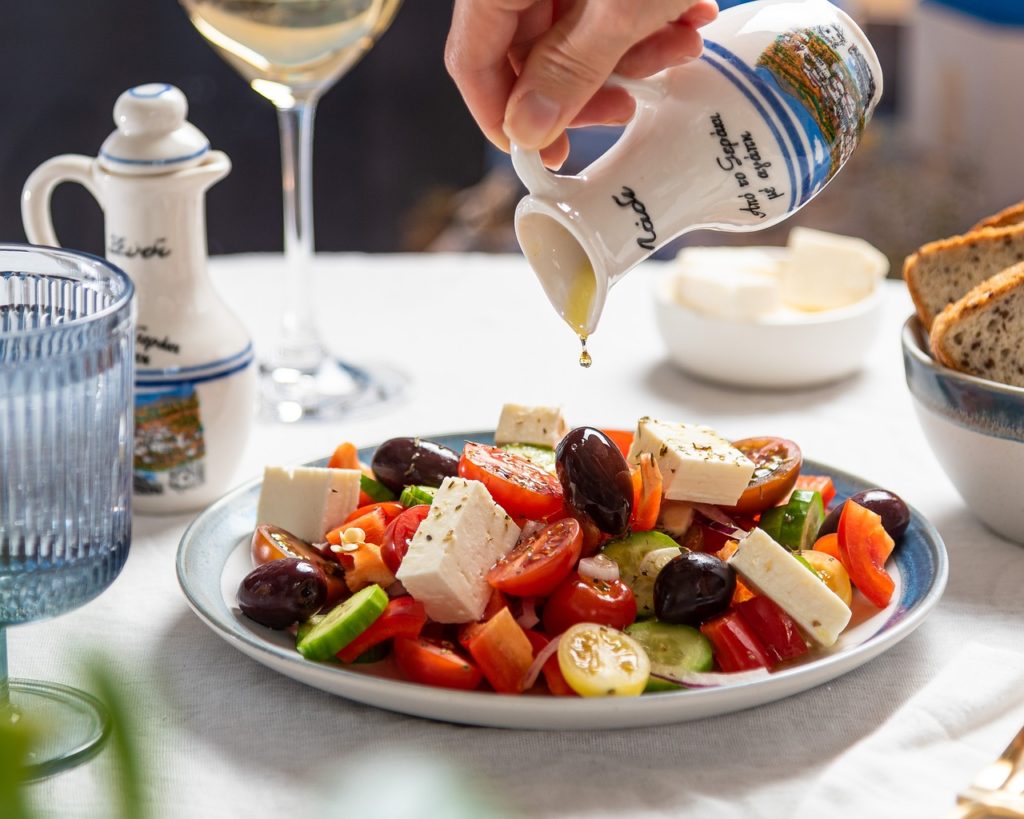 Athens is not only a history spot but also a food spot. A journey through Greek Cuisine in Athens should:
1. Start with Meze:A typical Greek meal begins with a selection of meze, small plates designed for sharing. These appetizers are a delightful introduction to the flavors of Athens. Be sure to try tzatziki, a creamy yogurt and cucumber dip, paired with warm, fluffy pita bread. Spanakopita, a spinach and feta pastry, and saganaki, a fried cheese dish, are also crowd-pleasers. Head to traditional Greek tavernas like "Kuzina" in the historic Plaka district for an authentic meze experience.
2. Savor Souvlaki:You can't visit Athens without indulging in souvlaki, the quintessential Greek street food. Small pieces of grilled meat,kept in a pita bread, tomatoes, onions, and a generous dollop of tzatziki. For an unforgettable souvlaki experience, visit "Bairaktaris" in Monastiraki, a beloved local haunt that has been perfecting this dish for generations.
3. Dive into Fresh Seafood:With its location on the Mediterranean, Athens boasts a seafood scene that's hard to beat. Head to the seaside neighborhood of Piraeus for an authentic seafood feast. Try classic dishes like grilled octopus, fried calamari, and the catch of the day. A restaurant like "Varoulko Seaside" offers a fine-dining experience with breathtaking views of the Aegean Sea.
4. Sample Moussaka:Moussaka, often called the Greek lasagna, is a hearty casserole made with layers of eggplant, ground meat, and creamy béchamel sauce. "Ta Karamanlidika Tou Fani" is a local favorite for this delicious dish.
5. For a journey through Greek Cuisine in Athens don't forget dessert:Greek desserts are as sweet as the culture itself. Try loukoumades, deep-fried dough balls drizzled with honey and sprinkled with cinnamon. Baklava, a rich pastry made with layers of phyllo dough, nuts, and honey, is another must-try. A patisserie like "Ta Serbetia tou Psiri" is a fantastic place to satisfy your sweet tooth.
6. Sip Ouzo or Retsina:To truly immerse yourself in the Greek dining experience, be sure to sample the local beverages. Ouzo, is the perfect start to your meal. For wine lovers, try Retsina, a unique Greek wine with a hint of pine resin. Sipping these beverages at a rooftop bar in the shadow of the Acropolis is an unforgettable experience.Conclusion: Greek food in Athens give to it visitors the opportunity to enjoy a journey throughout the years.From the ancient ruins to the bustling markets and charming tavernas, Athens is a destination that invites you to explore its culinary traditions with every bite. Opa!
Acropolis Stay is located right in the heart of Athens.Ask our Reception for more information and reservations!