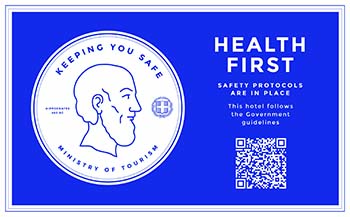 Dear guests,
Acropolis Stay is now open and ready to welcome you again in Athens, providing you with a safe environment.
Our apartments is" Health First certified" and follows the Ministry of Health's guidelines on cleaning and sanitation according to national legislation.
Below you can find all the latest guidelines along with the high standards our hotel already has:
How We are taking care of you:
• Our staff is vaccinated or tested every week against COVID-19.
• Our staff is equipped and is using all the required disinfectants and cleaning products to ensure the highest levels of hygiene.
• Our reception area is separated from the main building (different entrance), no need to pass through to get to your room.
• Digital check-in upon request (smart locks with pin codes outside every room), express check-out, no need for human contact.
• All rooms and common areas and equipment are cleaned /sanitized carefully several times throughout the day.
In addition, we use fully complied with the international standards cleaning products and the latest antibacterial and antiviral solutions.
• Bed sheets and towels: we guarantee their cleanliness and sterilization by Spick and Span.
This partner of ours, is certified by the Hohenstein Institute, under the RAL GZ 992/1, RAL GZ 992/2 & EN14065 standards.
• Hand sanitizers are available in all hotel common areas and rooms.
• Complete Medical kit available at the reception area.
• Luggage lift available, rooms accessed by stairs (only two floors).
• Breakfast in a package is delivered directly to your room upon request.
• Guests not residing in the hotel are strictly prohibited from entering the hotel even if they are relatives or friends.
• A/C cleaning and operating following the official guidelines.
How you can take care of us :
• Please sanitize your hands as often as possible especially, after using the toilet. Cover your mouth when coughing or sneezing, ideally using a tissue, disposing of it safely after use and washing your hands immediately.
• Please respectfully abide by social distancing. All communal furniture has been repositioned to meet social distancing requirements.
• Upon check-in and check-out please wait at the indicated point - Check-in is at 15:00 and Check-out is at 11:00.
• In case you develop symptoms during your stay please stay in your room and contact the Acropolis Stay certified Health Officer who will contact the medical doctor and follow the protocol for the provision of immediate medical care.